Cleaning for Spring Home Remodeling Tips
Spring Cleaning 2018
Summer is almost here, but have you thought about how much spring cleaning your house has yet to be done. Before the kids come home for Summer your going to want to start tidying up the house to make sure everything spotless. Stains on the carpet and sticky floor panels in the kitchen, this calls for a weekend of getting down to the ground. In order to make sure your house is impeccable read the following steps listed to see the types of resources needed to clean all types of surfaces.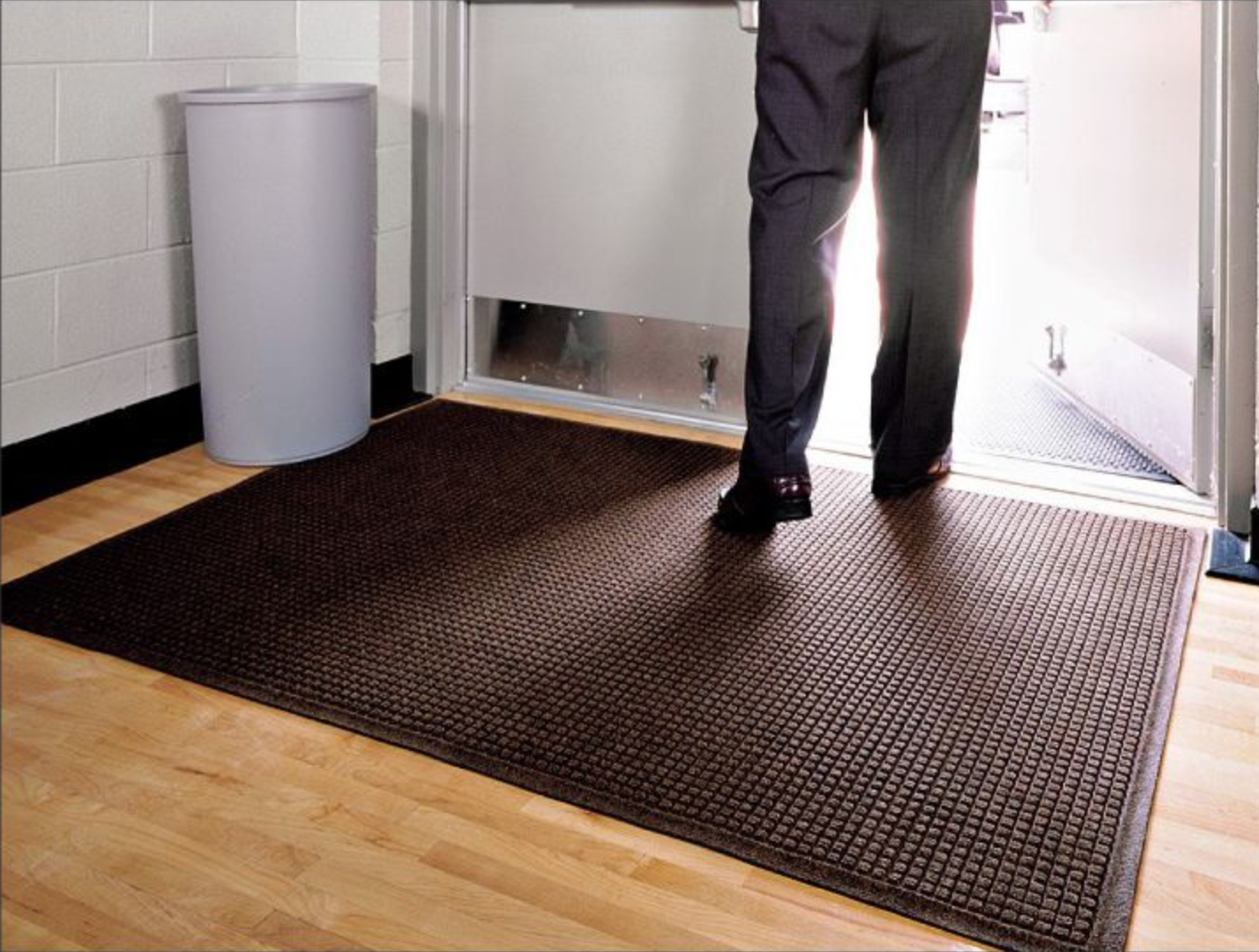 Why?
People ask why they need to clean their mats, and we inform them that if you go without cleaning, debris and dirt will build up more frequently and soon spread on the floor. Not protecting your mats can give a bad impression for anyone entering your home, making it an unpleasant experience.
Matting
To start with, cleaning your entrances and hallways you're going to want to begin getting the overall dust out by vacuuming and making sure all the dust is removed.
After vacuuming, it is also helpful to use a bat or mid-sized pole to slap the mats outside and causing any extra dust fall off. For a deeper cleansed wash, it is helpful to make a simple diluted all-purpose cleaner. Mixing and diluting the cleaner with some water, using a small brush to thoroughly clean and wash the mat by hand. Scrubbing, washing, and cleaning the mats manually will take out all extra dirt built up within making it a lot more cleaner rather than just vacuuming.
When
On a weekly consistency, vacuuming is necessary, but to get those deep cleanings out of the way we recommend knocking them out biyearly early spring and mid-winter. Before the heat kicks up in summer and before the family comes by for the holidays.
Why?
Remember that time the dog ran into the house after playing in the yard, or when the kids brought home sand from the beach because they thought it was neat. Think about all the allergens, pet hair, dust and debris hidden deep within the carpets, they are hiding and it is up to you to get them out! The carpets are a central hub for high concentrated areas of debris which slowly can turn into a slight odor if not handled properly.
Carpet
Similar to cleaning mats you would want to use an all-purpose extraction cleaner. Doing so you will remove any residue deep within the carpet fibers. Following the instructions carefully you will want to graze your carpet with the solution evenly distributing it everywhere. The extraction cleaner will then dry and crystallize around the sticky hard to get dust, making them oily and attached to the top of the carpet fibers waiting to be released. After about 20 minutes of drying, you should be able to vacuum the affected surface removing the deep particles off the carpet removing any leftover dust and dirt from all surface fibers.
When
Depending on how busy your carpets are, daily vacuuming is best to stay on top of it. If you don't have time daily we recommend vacuuming your carpets once a week.
Why?
If you did not notice more of an appealing reason to answer the why you should clean your VCT (Vinyl Composition Tile), then maybe a few quick and easy tips will help guide you in the right direction.
Vinyl Composition Tile (VCT)
By using a few simple supplies you are able to clean your VCT with ease. Make sure you have access to a few of these supplies.
Mop
Water
Neutral floor cleaner
Bucket
Fan/ Air Mover/Floor-drying fan
For every gallon of water used, mix an ounce of neutral cleaner to dilute the solution, it's important to use a neutral floor cleaner. Using the wrong chemicals may be too harsh on the floor and can actually damage the surface. Scrub everything and don't neglect the corners or busy areas of the room. When you're done, set up a fan to circulate the air within the room and allow for 30 minutes to avoid anyone slipping and potentially injuring themselves.
When
We recommend cleaning VCT as needed when the time comes. If you are looking to stick to a cleaning schedule its best to clean and wash once every other month.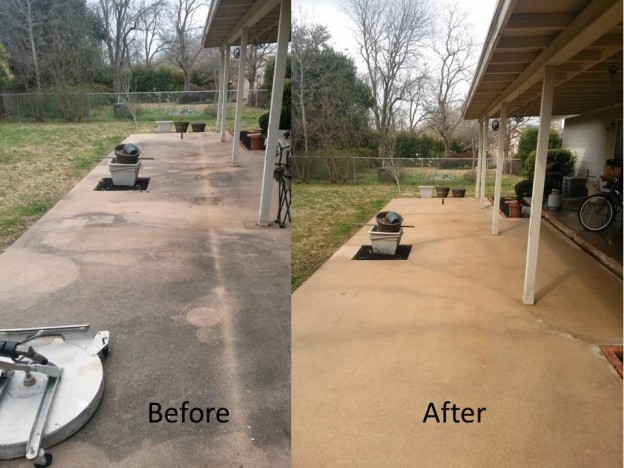 Why?
How often do you walk on your sidewalk and when was the last time you parked in your driveway? These questions, we don't think twice about because we constantly use our sidewalks every day. You shouldn't forget about concrete because it used around 75% of households. If you combine all the pores within fresh concrete over time they will start to collect dirt and grime, giving it a dingy look after a number of years.
Concrete
Concrete gets dirty daily and the rugged texture doesn't help. So what is the point of cleaning concrete anyways, appearance purposes! Concrete is stain resistant, and if you have a constant leak near a gutter/storm-drain or a slight oil leak in your driveway you may be susceptible to stains. A few supplies needed to clean outside concrete would be:
A power washer (Renting if not owned)
Broom
Bleach
Stiff utility brush
Portable sprayer
After using a push broom to sweep the top surface of concrete you will want to dilute your bleach with some hot water and mix it in your spray tank, spraying the entire surface area, and letting it sit for about 20 minutes. After coating the top surface you will begin by brushing the concrete with a push broom and scrubbing everything entirely. The corners are prone to build up grime and debris, so scrubbing them with some good ol' elbow grease usually tends to lift it! Finally, when you've come to the cleanest part of your concrete cleaning job, you are going to want to use your power washer, spraying and cleaning off the surface from chemicals, dust, and debris.
When
If you don't have every day to clean your driveway we understand, but if you do have 10-20 minutes to sweep your driveway once or twice a week it will help reduce the amount of build up on your concrete, periodically making it easier than the first cleaning.
Why?
You just paid how much for your marble floors, and you're not going to clean them when they need it? How dare you leave a diamond unpolished. When buying marble for floors, bathrooms, countertops, etc it is essential to keep them clean from scratches and stains as best as possible.
Marble
There are a few methods that can help with your marble cleaning method, but by frequently cleaning your marble surfaces, it can make or break the longevity of your marble stone. A few supplies needed are:
Dry cloth
Non-abrasive sponge
Damp/wet cloth
Soft rag
Dishwashing soap
Hydrogen peroxide
Chamois/Shamwow cloth
Marble polisher
First using your dry cloth, wipe the surface clear of debris and dirt. After priming your surface, use a non-abrasive sponge with warm water and squeeze onto the marble and wipe marble top again. Using a small drop or two of the dishwashing soap, and damp cloth wipes, wipe down and rinse the marble top with plain water after or mixing ⅓ hydrogen peroxide ⅔ water solution and wipe down the surface completely. To dry the surface area, use the ShamWow cloth and buff the surface to shine in small circles. When finished use the marble polisher and a soft rag by adding the extra sparkle n shine on your marble stone surface.
WARNING: DO NOT USE ABRASIVE OR ACIDIC CLEANSERS TO CLEAN MARBLE.
When?
To prevent spills from turning into stains and getting trapped in the porous marble surface its best to clean up as soon as possible. Frequently cleaning your marble surfaces from dust and debris daily, will keep the longevity of the marble while retaining the beauty of the natural rock.

by Sean Muniz on June 11, 2018